The bulk of the nourishment of your parrot's diet needs to come from either an all-natural seed mix or a premium brand pellet. These commercial sources, along with a mix of fresh fruits and vegetables, will make sure that your beloved pet will receive all the vitamins and minerals, key nutrients and protein that they need for proper development and health.
Aside from ensuring their well-being, treats are also fed occasionally, especially if you are training your parrot. Here are some of the best parrot treats that you will need for your pet training.
Special Bird Treats
When it comes to choosing parrot treats, choose one that your bird is passionate about, and used exclusively for bird training. Doing this will help the parrot differentiate feeding time from training time.  Among the most popular parrot treat option includes nuts and fruits. Some birds, however, love specific seeds.
·         Goldenfeast Treat Petite Legume
They are ideal for pet training since it comes with a wide range of tasty bits that easily fit in a spoon. Your birds can also choose from the bits and pieces that attract them. Aside from being tasty, it also comes in a complete nutrition formulation with no artificial colors, flavors, or synthetic vitamins. It features 50 wholesome ingredients, packed into small chops.
·         Goldenfeast Tropical Pudding II
Some pet owners toss it in a food processor, as the pieces need to be chopped into finer bits. Among the ingredients that are included in this treat are dehydrated apples, dehydrated papaya and mangos, dried cranberries, dehydrated strawberries and cherries, peach, pineapples, diced guava, chopped dates, and more.
Once you have identified which treat your bird loves, keep it special and marked by storing it in a recognizable container, and if possible, in an area that you have specially selected to serve as your bird training area.
Easy to Find Treats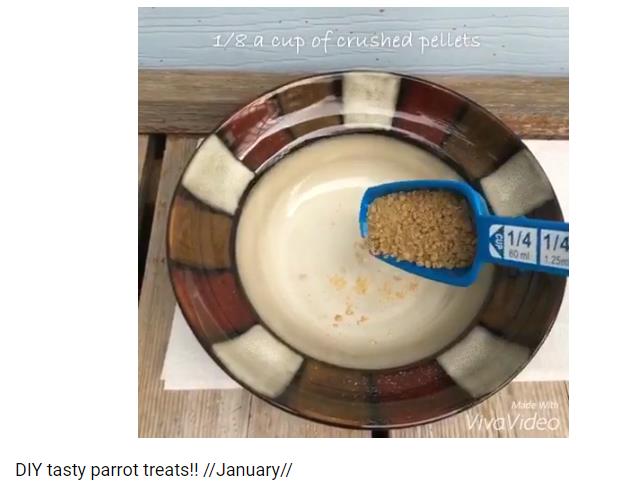 If you do not wish to purchase commercially available treats, there are options that are also easy to find. Here are some of them:
Millet
Sunflower seeds
Peanut bits
Pine nuts
Sunflower seeds
Pumpkin seeds
Almonds
Safflower seeds
Banana chips
It is important as an owner to make an extra effort to know which treat is preferred by your pet. This will help you train your pet even better and escalate your training session to a more ambitious one. While some birds may love fresh fruits, they may have a tendency to love juice too much, giving them runny stools. You may want to give them these types of food items periodically. You can simply experiment to see which treat works best for your bird.
DIY Parrot Treats
Instead of simply feeding your parrots with typical seed or pellet treats, you can also take things a level up by introducing your very own DIY treats. Here are some of them:
Parrots love fruits and vegetables. Apple if a crowd favorite. You just need to slice them into smaller cubes or slices to serve them as an occasional treat. Apples have a crunchy texture that parrots love. You can even cover the apple slices with some peanut butter and some birdseed on top.
Crackers and Peanut Butter
Some parrots may tend to be choosy with their food. Still, almost all of them love the buttery and sweet taste of peanut butter. The good idea is to smear peanut butter on top of a cracker, and giving it to your parrot as a treat.
The oily and salty flavor is both simple yet delightful to their taste. Of course, this treat should only be provided in moderation, as it contains a hefty amount of oil and fat.
Yogurt Covered Strawberries
For a delightful and sweet treat, you can simply dip some strawberries in yogurt, and place them in the freezer to harden. This treat is among the few treats that will not just be enjoyed by your parrot, but you as well. Note, however, that yogurt needs to be given in moderation, as it is a dairy product. Too much of it may result in an upset stomach of your pet.
This recipe for your parrot treat is perfect during the warmer weather. It is amazing for both you and your parrot to relax and cool down. You may want to alter the ingredients in order to include foods that are both healthy and tasty. You may even create a variety of treats that can be shared together by you and your pet. You may also throw in some pellets or millet to make it a bird-only treat. It is often helpful to create a blend that is customized according to the taste of your bird, making it the ultimate reward for a job well done.
Even though some keepers reserve this special treat for autumn, they are actually healthy and fun to make any time of the year. It is not just easy to prepare but also nutritious, surprisingly. Pumpkin seeds are among the favorites of parrots. While they can be found in commercial mixes, making your own at home, toasted, can make sure that your bird will not miss out on the nutrients that they need.
Peanut Butter Raisin Pockets
Everybody loves peanut butter and jelly, but not your pets. Still, they can have a version of it with these peanut butter raisin pockets. This is a health-conscious treat that will deliver healthy proteins and fats to your pet, not to mention a wild burst of flavor, minus the sodium and sugar usually found in jelly. This recipe is easy to make and is also safe to share with your pets.
This banana strips recipe is great to have on hand. It is not just filled with vitamins, but also an amazing way to give your bird some variety in terms of flavors and texture. It is a recipe that is easy to make, requiring only a spoon and a bowl, plate, and a microwave. It is a great homemade treat that can also be done by your family. Adding food coloring can be fun, but it is entirely up to you to choose those that are safe for your pet.
This is a fail-safe treat that will certainly be delightful for your pet. Aside from the taste, it also offers extra nutrition. Parrots generally love fruit, and this treat will certainly be loved by your pet. Among the options that can be included in your platter are sliced apples, orange wedges, chopped bananas, and grapes.
Conclusion
With our without treats, parrots are known to be very smart. They can be taught a wide range of tricks. As social creatures, they also enjoy their training sessions, and the interaction very rewarding. While this is true to most parrots, there are some birds that still need coaxing in order to trust or engage them in bird training. Bird treats have been proven to coax different types of birds, including reluctant parrots. Giving them treats further accelerates the learning process while increasing positive behavior.