Scientific Facts
| | |
| --- | --- |
| Common Name | Yellow-tailed Black Cockatoo |
| Scientific Name | Calyptorhynchus funereus |
| Origin | South and central-eastern Queensland to southeastern South Australia from the small populating Eyre Peninsula. However, due to some alterations in their habitat, there are already traces of this bird species in the urban areas in Sydney, Canberra, Adelaide and Melbourne |
| Habitat | Hollows of tall trees with large diameters usually in eucalyptus trees. They are usually seen in elevated areas, but when the winter season comes, they'll move in the lower-lying areas to dry themselves and to search for food. They can be found in varying habitats such as in a riparian forest, grassy woodland, subalpine areas, heathland, pine plantations and in suburban areas such as parks and golf courses |
| Diet | seeds of pine cones, native trees, and even seeds found on the ground plants. They also feed on small insects that stay on their habitat. They drink water early in the morning and in the evening in the troughs or puddles |
| Size and Weight | 55–65 cm (22–26 in), this comprises their tails with an average length of 33 cm (13 in). |
| Life Span | Up to 50 years |
Physical Appearance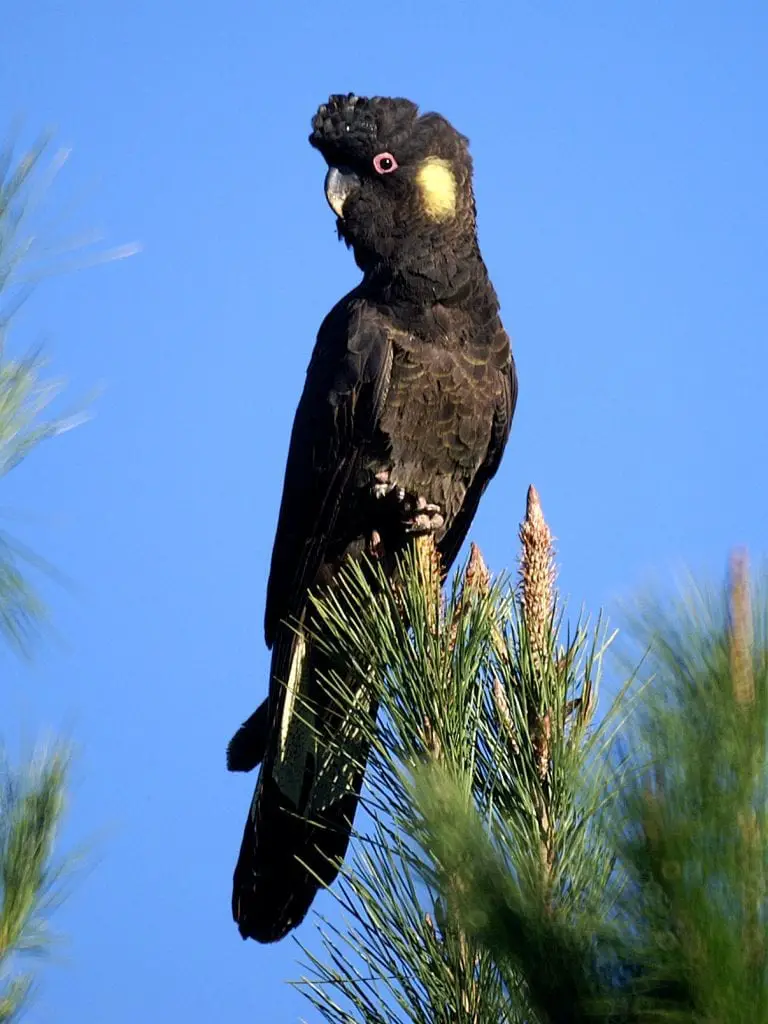 This is a large cockatoo that is characterized by its short crest on its crown. Its feathers are in scalloped appearance with hints of yellow. It has a plumage that is dominantly brownish-black with yellow patches on its cheeks and a yellowish tail band. You can distinguish a male from a female through their beak and rings. Males tend to have a pinkish-red eye-rings with black beak and the yellow patch behind the eyes while the females have grey eye-rings with more defined yellow cheek-patches. As the name implies, they are distinguished by their yellow tails and ear markings.
Where it is Seen?
Yellow-tailed black cockatoo is a native to the regions of south and central-eastern Queensland to southeastern South Australia from the small populating Eyre Peninsula. However, due to some alterations in their habitat, there are already traces of this bird species in the urban areas in Sydney, Canberra, Adelaide, and Melbourne. They usually thrive in with an elevation of 2,000 m (6,600 ft) above sea level.
Habitat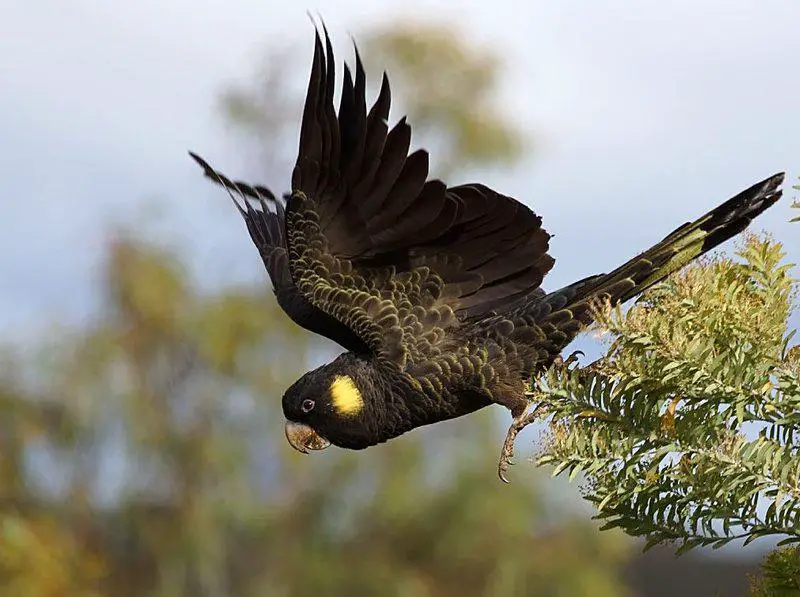 Yellow-tailed black cockatoo occupies and builds their nests in the hollows of tall trees with large diameters, usually in eucalyptus trees. They are usually seen in elevated areas, but when the winter season comes, they'll move in the lower-lying areas to dry themselves and to search for food. They can be found in varying habitats such as in a riparian forest, grassy woodland, subalpine areas, heathland, pine plantations and suburban areas such as parks and golf courses.
Subspecies
Eastern yellow-tailed black cockatoo
This species is found in the south through New South Wales, Berserker Range in Central Queensland, and through eastern Victoria. They are characterized by their large size and long wings, tails, claws, and bills.
Southern yellow-tailed black cockatoo
They are endemic in the western Victoria, the islands of the Bass Strait, southeastern South Australia, and Tasmania. The males tend to have wider bills compared to other cockatoos, while the females have a larger physique than the females.
Diet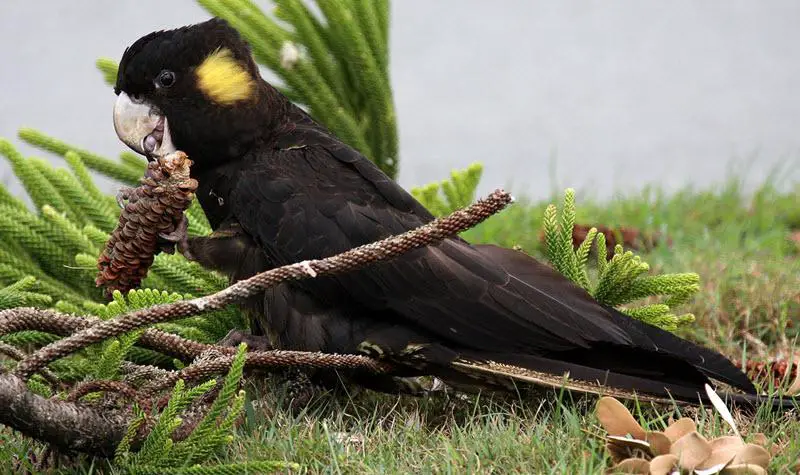 Their diet contains mostly of seeds and wood-boring grubs that cohabitate with them. Their diet consists of seeds of pine cones, native trees, and even seeds found on the ground plants. They also feed on small insects that stay on their habitat. They drink water early in the morning and in the evening in the troughs or puddles.
Size and Weight
They are considered as a large cockatoo species that has an average length of about 55–65 cm (22–26 in), this comprises their tails with an average length of 33 cm (13 in). The males weigh around 730g( 1.62lb) while the females have about 800 g (1.8 lb) weight. They may not differ that much in size, but they differ significantly in terms of their weight, where the females tend to be heavier than females.
Behavior and Temperament
Yellow-tailed black cockatoos are active in the day time, where they love to stay in flocks making a disturbing loud noise. They are fond of making long journeys usually in pairs or together in a flock, especially when it is about to enter the winter season where they find a habitat for a few months together. They are usually seen on the ground if they are picking something to eat or if they want to drink water. Before dusk, adults tend to clean their feathers through their beak; they also feed their young. During feeding, adults eat quietly while the juveniles make begging calls noise.
Breeding and Reproduction
The breeding season varies depending on where they live. For those who are in Queensland, their breeding takes place at around April to July, December to February in southern New South Wales, January to May in northern New South Wales, October to February in Tasmania, South Australia, and Victoria. The males court the females by means of puffing up their crest and spreading evenly their tail's feathers to show off their yellow plumage. The copulation process happens in the hollows of the tall trees, especially in the eucalyptus tree, whether dead or alive. This is the same tree they used for a lifetime. Their egg size has a total length of 48 mm long, with a diameter of 37mm (2 × 1.4 in). The females stay in the hollow while incubating the eggs for about 7 days while the males bring food for at least 2-4 times a day. The juveniles have pink beaks, but when they are about to fly, it changes in gray. Their body has a more yellowish coloration.
Lifespan
They can live up to 50 years as long as they stay in an ideal environment where they receive the right kind of nutrients and care.
Common Disease/ Illness
Feather Picking and Self-mutilation
Feather Picking and self-mutilation is a behavioral problem shown by your cockatoo, especially when they are bored, stressed, and frustrated. These are the traits that they show if they are lonely, these types of birds are not used to living alone that is why to avoid this; you may need to take them in pairs or sacrifice your time at least 2 hours a day to play or train them. It would also be useful if you will place their cage in a place where they see people to a male; they feel that they are still in a flock.
Psittacine beak and feather disease (PBFD)
When your bird suffers from this disease, their feathers change in color, and it is dropping. While its beaks are very fragile that it may break off hard food is given to them, and usually, they already have a distorted shape. Expect that your bird will not be cured through the use of an antibiotic or any medications since their immune system has already been attacked. The best way to deal with this disease is to make sure to give them healthy foods enriched with nutrients and always make their environment hygienic. This disease is common in the wild, so it is important that as you acquire a cockatoo from a pet shop or pet collector, you may still need to let your veterinarian screen them for PBFD.
Food poisoning/Ingesting toxins
Cockatoos are prone to food poisoning, whether they are in the wild or in captivity. In captivity, you must be very cautious with the variety of food you are given to them. Avoid giving them peanuts, grapes, avocados, alcohol, and other caffeinated products. If your bird consumed these toxic, expect that they 'll have dizziness, liver disease, kidney problems, and heart failure. The different household cleaning chemicals also irritate them quickly, so make sure not to use those near the bird.
Obesity and Lipomas
Obesity and overweight for cockatoos is a no-no because it can trigger other diseases such as diabetes and heart problems. To avoid this problem, make sure not to overfeed them. Make their feeding schedule at the same time every day. Aside from overfeeding, the lack of exercise is also another cause. There is a high possibility that your cockatoo will develop benign fatty tumors known as lipomas if they are obese, and this is solved through surgery only that can pose a danger to the cockatoo.
Bumblefoot
This is lameness and swelling of the cockatoo's feet, and usually, it is accompanied by some wounds or lesions on the skin. If your bird suffers from bumblefoot, they will have difficulty in doing some activities, such as standing on the ground or on the porch. Due to lesions, they will also have a hard time grasping their food. The lesions on their skin can be a breeding ground for bacterial infection, so make sure to instill cleanliness in their cage. They usually suffer bumblefoot due to nutritional deficiencies such as calcium and Vitamin A.
Preventing Illnesses
There are factors that contribute to having diseases or illnesses to your cockatoos. In captivity, these factors are controllable. Some of the reasons are stress, boredom, unhygienic environment, improper way of handling, and nutritional deficiency. It is important to equip yourself with vast knowledge on how to take good care of your cockatoo to ensure their health and safety always. Be attentive to their needs so that when you notice that there is something wrong, they can be cured easily. Don't hesitate to ask for help from your veterinarian if your cockatoo is sick.
Captive Breeding
There are two types of yellow-tailed black cockatoo when it comes to breeding in captivity, the one that is bred successfully or the one that is not suitable for breeding. Before taking them in captivity, make sure that you are ready to provide their basic needs, such as their housing, healthy food, and proper way of handling. You also need to commit your time if you want to take them as pets to train and play with them. They can live up to 50 years, so you must consider the budget that you may need.
Availability-Where to Get One
Since they are listed as an endangered species, this cockatoo is difficult to avail in captivity if you will search in some physical stores, but since a lot of captive breeders are encouraged to breed, you can avail one from pet collectors, and you can search them up from the internet.
How to Care Parrot as a Pet?
Housing
In taking good care of yellow-tailed black cockatoo, it is always advisable to opt for larger cages with overall dimensions of 102 x 76 cm (40 x 30 inches). Moving around and playing is an important activity for them to avoid different health problems. It is best to place them near the window or on a balcony where they see people and where there is natural sunlight. Choose for a cage that has an edge that can be seen on the square or rectangular shaped cage so ss not to trigger their aggressiveness.
Accessories
To lessen the boredom of your cockatoo, there should be toys and perches where they can jump into. You may place at least 4-5 perches. Make the top perch soft because this is where they sleep. Include a bowl where they can eat and drink.
Feeding
They are usually given pelleted food, but it is still advisable to include fresh fruits and vegetables such as peaches, bananas, apples, tomatoes, cucumber, and cabbage. You can also give them cooked food such as pasta, navy beans, brown rice, barley, oats, and kidney beans. Their diet should contain at least 75% pellets and 25% fresh fruits and vegetables. The size of food that you can give them every day depends on the size of their body. Studies show that they have more of an appetite for food if you will watch them eat.
Grooming
Like domesticated animals, yellow-tailed black cockatoo needs regular grooming, such as taking a bath and trimming of their claws and nails. They can be irritated easily if they are not clean. You can do grooming sessions at least once a week. If you are not comfortable doing it, you may need to take it to your nearest pet shop so that they can assist you.
Conservation Status
The yellow-tailed black cockatoo is currently listed as a threatened species or critically endangered where there are only a minimum number of their population in the wild because of some reasons such as illegal hunting, destruction of their habitat, climate change, infestations of disease or illnesses and due to predation. There are efforts from the different governments to increase their population by means of breeding in captivity, and if the cockatoo is matured enough, they are then released in the wild.
FAQ Section
Do yellow-tailed black cockatoo talk?
They have the ability to utter and repeat words that they hear with proper training, but it takes dedication and patience to do so. If you are successful in teaching them, they can mimic a wide range of sounds.
Is a yellow-tailed black cockatoo a good pet?
They are a good pet if they stay in a quite ideal environment. They are funny, affectionate, and is easy to get along with.
Is yellow-tailed black cockatoo dangerous?
They can be dangerous when they are aggressive because of their painful bite that may cause injuries.
Do yellow-tailed black cockatoo cuddles?
These type of species has a big demand for attention from their owners. They are lively and affectionate when they are happy and most likely that they'll create a bond with their owners.
How long can a yellow-tailed black cockatoo be left alone?
You can leave them alone for at least 8-9 hours with food and water. Leaving them alone for a day without bonding with them is not advisable.
Are yellow-tailed black cockatoo good pets for beginners?
They are not quite recommended for newbies because of the proper way of handling them because they can be spoiled easily.
Why does yellow-tailed black cockatoo get angry?
They are territorial, especially males. They respond aggressively if they feel that there is an intruder or an unfamiliar face that visits them in their cage.
Why does yellow-tailed black cockatoo bob their heads?
Head bobbing is a way for them to beg for attention and food. Head bobbing while they are swaying is a manifestation that they are happy.
Is yellow-tailed black cockatoo high maintenance?
They are high maintenance in such a way that they need your attention every day. You must feed and give them water every day
As long as they are staying in an ideal environment, they are a hardy type of cockatoo.