Dressing up your bird pet with Halloween costume gives is an exciting feeling because it will add up to their aesthetic appeal. In choosing suitable costumes for your bird, you may need to ensure that it will perfectly fit your bird so that they will not be restricted in doing their activities as well. We've come up with 10 amazing Halloween costumes. 
1) Birds Bowler Hat with Adjustable Chin Strap & White Feather, Funny Dress up Top Hat for Halloween and other Occasions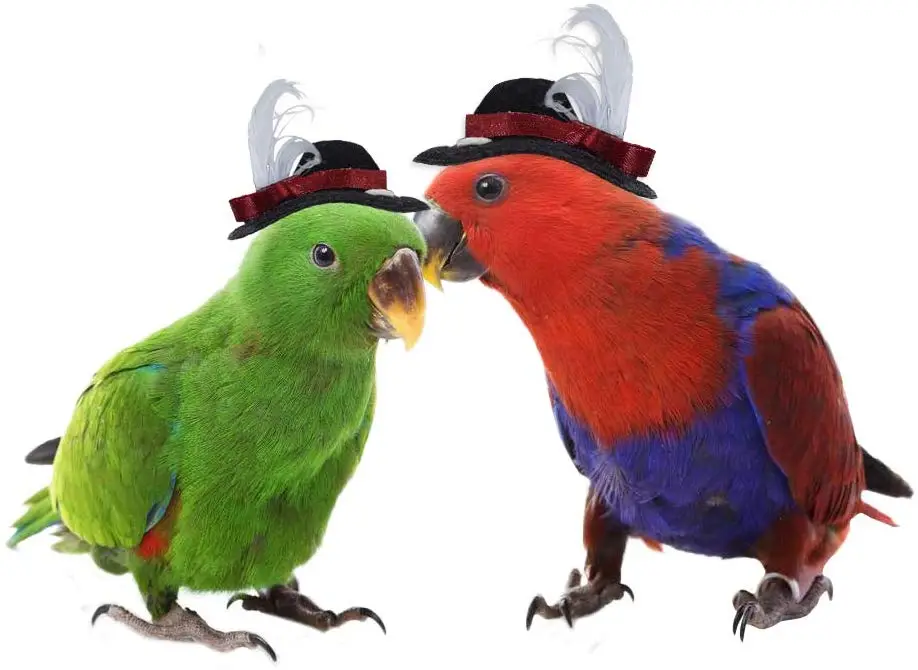 This is a headdress that has an original design that gives an attractive, adorable, and charming costume that is not only used as a Halloween costume but can also be used in any other festivities. It is made from high-quality cotton material that is lightweight that your bird wouldn't feel that it is wearing something. It consists of a two style adjustable rope so that it won't fall off. It is available in color black with a burgundy ribbon. It is suitable for small birds such as Cockatoo, Conure, Macaw, Cockatiel, Lovebird, and Parakeet.
2) Baosity Frog Shape Hoodie Bird Winter Clothes Cartoon Jumpsuit Sweater Warm Apparel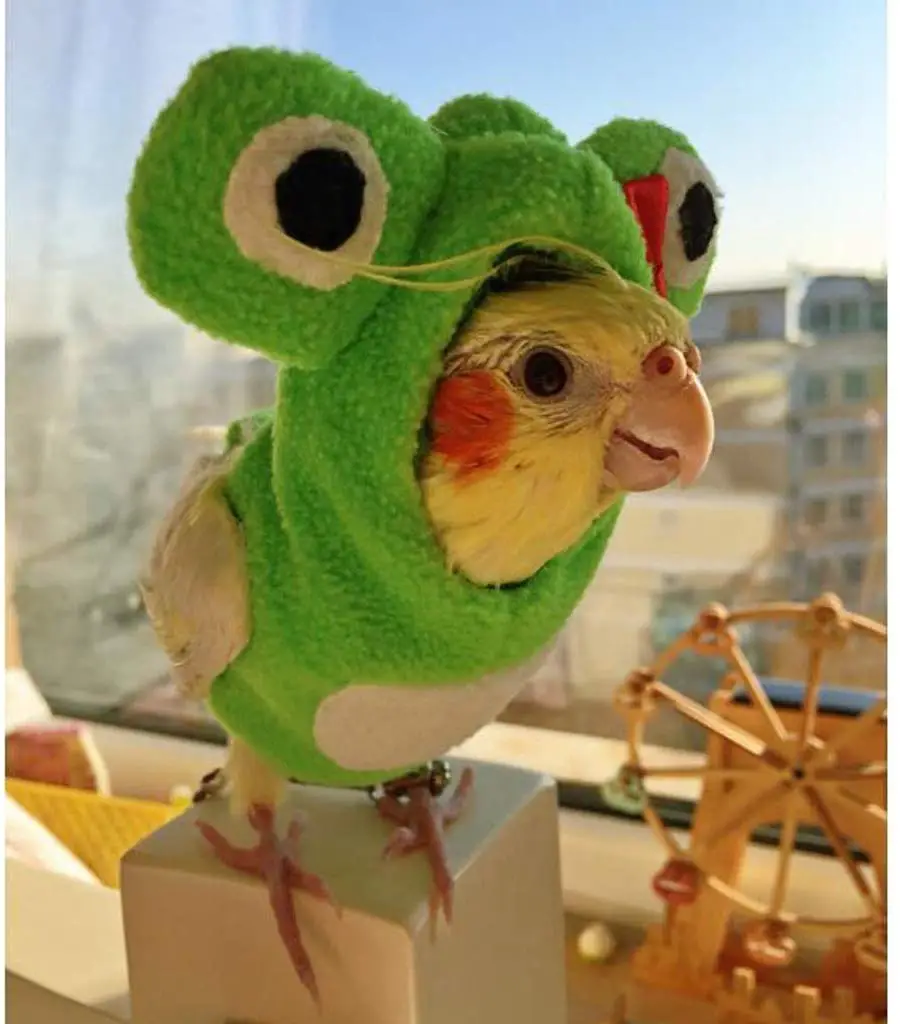 This hoodie bird winter costume is a cartoon-designed sweater that makes the bird not only warm but stylish. It is an ideal costume to be worn outdoors in autumn, winter, and spring. 
Made of top-quality and comfortable cloth, our Hoodies are designed to keep your bird stylish and warm. It has an outer layer fabric with an inner layer that is soft, breathable, and made of top-quality cloth. Your bird will not be irritated in wearing it because it is easy to wear. It is suitable for parrot species such as parakeet, cockatoo, cockatiel, conure, and macaw.
3) Pet Small Animals Clothes Birds Flight Suit for Parrots African Greys Parakeet Cockatiel Sun Conure, Cute School Uniform Tuxedo Business Suit for Christmas Party Birthday Pet Shows Cosplay Photo Prop
This is described as a skin-friendly, durable, soft, lightweight, easy to clean and is made from materials that are safe for birds. This is the type of costume that is usually used by birds in Halloween parties. This type of Halloween costume is best to use for Cockatiels, Finch, Conures, African Greys, Budgies, Lovebirds, Macaw, Eclectus, and the Canaries. This costume is also a favorite by breeders who wants to be with their bird pet when they join cosplay.m It is available in sizes small, medium to large, so whether your bird is a juvenile or adult, it will surely fit in this suit. 
4) Gingerian Bird clothes Parrot clothes Bear original hand-made custom bird clothes Hooded Sweater Bear
This hooded sweater bear inspired Halloween costume for birds is a type of clothing that makes your bird warm even though you would have a playtime outdoors during the cold season. It is easy to wear without frustrating your bird because of its velcro attachment at the back part. It is suitable for all parrot species. This is a multi-use costume because it can be used on all occasions. You can be sure about the quality of this costume because it is handmade, making it durable for long term use. Its clothing is warm and is breathable, that is why it can be used in all seasons.
5) LAWOHO Pet Halloween Costume – Vampire Cloak for Holiday Cosplay Party Pet Apparel Suit Parrots Red Black Decorations
This is an outstanding Halloween costume that is suitable for parrot species. This is an ideal wear for daily use for special occasions, specifically Halloween. It is made from the best clothing materials to ensure that your bird will not get irritated when they wear it. Your bird pet will surely look cute, smart, and picturesque when they use this cape and hat that gives them a vampire look. This kind of costume is also available for your domesticated pets that is why when you have dogs and cats in your house, you can also let them use this kind of costume for a cool pictorial.
6) See live Parrot Cloth Parrot Pet Crested Myna Universal Flight Suit Bird Diaper Clothes, Print Noble Style
This is a versatile bird clothing because it can be used as an all-year-round costume and as a nursing clothing because you may put them on with diapers so as to avoid the unwanted mess, especially if you would take it out. Its sizing is comfortable enough so that the bird can still move freely. It is made from cotton satin fabric which is breathable and refreshing. Your bird's flight won't be affected when they wear this costume. This is perfect clothing if they are not allowed to pee anywhere. 
7) General Hand-Made-Original Custome Pet Birdie Pigeon Bird Parrot Action Hero Cloth Diaper Flightsuit
This is a character costume that is another popular costume that is commonly used on all occasions, especially during Halloween. It will fit in almost all kinds of bird species because of the range of sizes available. You may need to check the size of your bird's abdominal circumference so that you would know the size that is comfortable for them. You will surely take a photo of your bird every time they'll wear it because they will look sophisticated but simple. The looks of the costume in the picture, as well as its actual look in person, are almost the same, so it is worth it to buy.
8) Pirate FeatherWear FlightSuit&trade and Hat
This pirate-inspired costume is a perfect option for Halloween season and for other animal parties. This type of costume is a common costume that you can see in trade fairs or animal parades. This flight suit is available in different colors such as gray, black, orange, red, and yellow-orange. It also features a diaper function, so you will not have to worry if you would take your bird in any event because their mess will surely be contained. Its headdress is lightweight and that it is securely attached so that it will not irritate your bird every time they'll use it. 
9) Winter Custome Handmade Pet Birdie Bird Cloth Parrot cloth Hoodie Fruit paradise Suit for 70-600 grams of Parrot
This is a simple but eye-catching bird costume because of its color and how it perfectly fits a bird's body frame as long as you would choose the right size. This will not only serve as a costume, but it can also be used as everyday wear, especially during the winter season because it has thick clothing. It is equipped with a hoodie that will give the bird a pear appearance. It will not interrupt your bird's flight because it has an adequate hole that perfectly fits their feathers. 
10) POPETPOP Bird Diaper Parrot Flight Suit – Bird Clothes Creative Bird Pilot Clothing with Waterproof Liner Pet Bird Macaw Cockatiel Clothes Halloween-Dark Grey
This Halloween bowknot design looks elegant, but it is just simple and beautiful to wear. You will not only be amazed by how it was designed, but its color combination will give the bird an executive feels. It is suitable for small-medium sized birds such as pigeons, cockatiels, parakeets, and other similar birds. It is highly absorbent and has a waterproof outer layer to add up to its durability. It has a cottony inner layer; that is why your bird will surely be comfortable in using it. It also has an absorbent diaper lining so as to avoid any leakages that may damage your chairs, sofa, and rugs.
Final Thoughts
Dressing up your bird pet once in a while is another form of bond that will not only make you happy but will also make your bird feel loved and accepted. These Halloween costumes are versatile costumes that can also be used on any occasion where your bird can go to.