If you have pet birds at home or are interested in owning one, having a reliable bird cage is very important. As an alternative, however, a T Stand can also be a good option. Even though the market is filled with options from different brands claiming that their product is the best, owners still wonder whether they are indeed reliable.
As the owner of your pet, you know the need for your birds. One thing to note, however, is that it is somewhat impossible to find a single T Stand that meets all of your desired requirements. Aside from size, there are also a number of materials that are used in making T Stands.
To help you out, we have listed the top 5 best quality T stands for birds. This list was compiled after examining the reviews carefully of actual owners who have used them before. Check the best options out there right now and decide which specific product suits you best.
Caitec The Percher Portable Training Bird Perch
This T stand comes in a tabletop style that helps owners to focus on training. It features a five-point base that enables it to be used in a traditional way, while also being detachable so that you can use the handle beneath the tray for some handheld routines.
Each of the pieces of this stand screw in a modular way together, allowing for multiple styles and configurations. For this stand to be used for a handheld setup, the catch tray is smaller. This could mean that for bigger birds, it may not be a good option for catching all their waste. Still, the design of this stand is way better than not having any catch tray at all. The ingenious design of this stand makes it an option that is worth your consideration.
This perch stand is also textured in a way that will allow your bird to have a secure grip all the time. It is well-favored by owners of African Greys, Amazons, Conures, Cockatiels, Senegals, Parakeets, Lovebirds, as well as other birds that prefer out-of-cage accommodation. The grip handle of this stand is not just sturdy, but also comfortable for all ages.
As a bonus, this stand is easy to assemble. In fact, no tools are required. It is very easy to put together, and also easy to take apart for cleaning. All you need to do is to remove all four parts, the cone, perch, handle and base, and wash them in warm and soapy water.
Penn Plax Bird Perch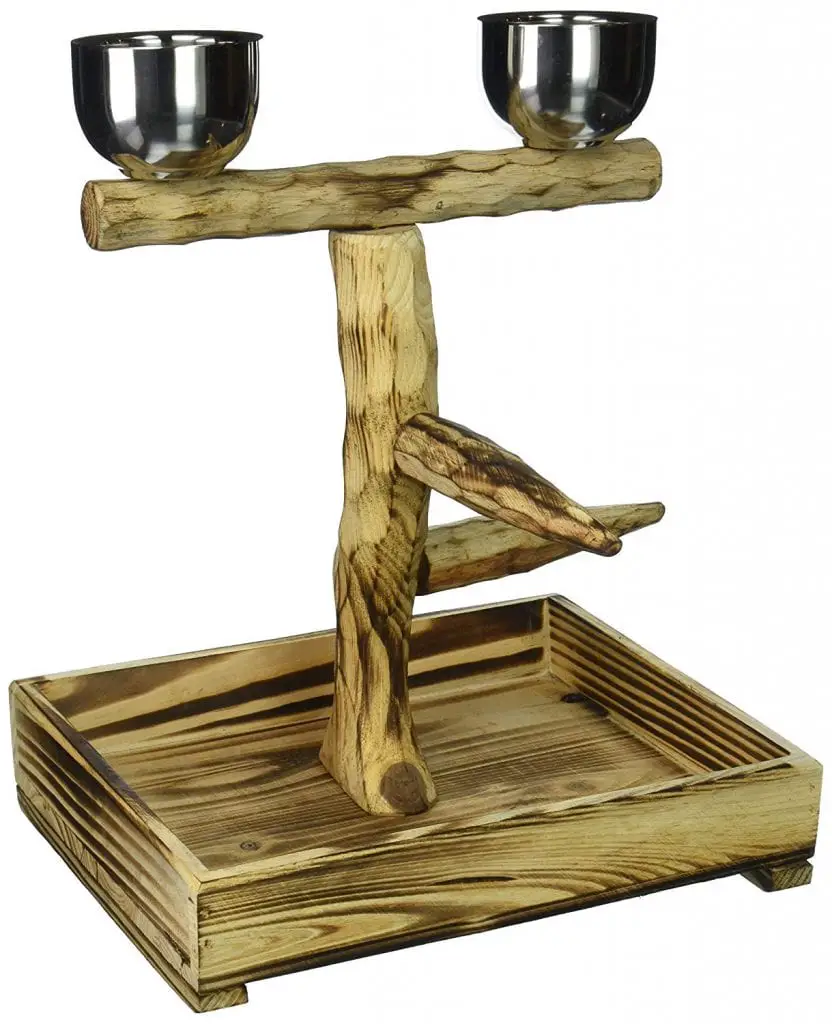 This model is considered as a traditional tabletop stand. It comes with a rectangular base that ensures stability, along with a mess-catching feature. The use of wood in this stand makes it more natural, feeling like a real tree branch. The three perches also provide your bird with options where they want to be.
This also comes with two cups that can be used for water and food. As a tip, however, unless you are ready for some mess, it is not best to put water in one of the cups. This T stand is available in two sizes, covering a wide range of birds.
It also features an integrated drip tray located at the bottom of the stand to catch both food and seeds. This will ensure an easier cleanup of the stand. This bird perch is recommended for use among smaller birds such as conure parrots, cockatiels, lovebirds, budgies, and more. Even the large size of this stand may not be fit for the bigger cockatoos and macaws.
Parrot Wizard Large NU Perch Parrot Climbing Tree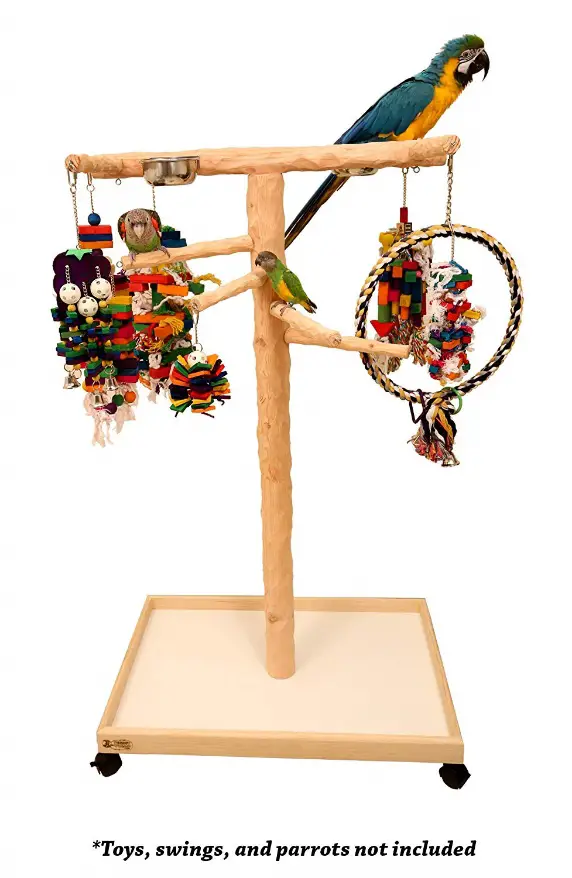 If you are the owner of a bigger bird, you need to look for a bigger perch. This is what this T stand can offer you. For example, if you have a Macaw, this T stand is a good option for you because these birds are known for their overall size and long tail feathers.
This perch comes at a size of 58 inches in height and a 30-inch top perch. It features 16 slots where you can add the 12-inch perches for the accessories. Even though this perch is designed primarily for the bigger birds, it can also be used by medium-sized species. In fact, some of them will love the space provided to them.
If you have a smaller bird, need not worry. This particular design comes in both tabletop and medium versions. While most owners agree that this stand is quite pricey, they are custom designed to ensure a usable and comfortable texture that is ideal for birds. On top of that, the base is also constructed with wheels, making it easier to reposition it anytime you need to.
Birds LOVE Tabletop T-Stand Deluxe Play Gym Bird Stand
This portable bird stand is perfect for exercise and playtime, especially if your bird loves to stay out of the cage. It is easy to assemble and is made out of pine wood. When assembled completely, it only weighs 2.5 lbs., which means that it is not difficult to reposition and move it around whenever needed.
It is also durable, as it comes with two stainless steel cups, and two eye hooks, which can be used to attach the favorite toys of your bird. It also features two top perches, which can either be used together or use one as a replacement of the other. It is also very easy to clean as it comes with a laminate base that catches the droppings to keep them off your floor.
This model is perfect for Senegals, Cockatiels, Lovebirds, Ringnecks, Sun Conures, Amazons, Caiques, smaller Cockatoos, and small to medium-sized birds.
Sleeri Small Parrot Bird Pet Perch Stand
This stand can serve two purposes: a table perch as well as a training perch. Whether you are using this indoor or outdoor, the quality and durability of this stand are tested. It is recommended for use on smaller birds.
If you are searching for a simple T-stand that is not complicated for your bird to handle, this is a good option that you can take into consideration. As this is made of wood, it perfectly mimics how a branch looks like. It also comes with a base that can serve as a catcher of droppings.
Making a Good Choice
With the number of options out there, making a decision can be challenging. Taking into consideration the actual need of your beloved pet will help a lot in making a choice. It is important to note the actual size of your bird, as this will be your determining factor primarily. In the list above, you have options on different perches for birds of different sizes. You can also note the behavior of your pet. If your bird loves having toys around, then a T-stand with perches may be a better option than having a plain, basic one. Having a base is also recommended so that you do not need to follow around cleaning up the mess caused by the droppings of your bird.