If you think that building a home for your coop is unachievable, think again! With the right ideas at hand, you are on your way to building your brood, a safe, practical, and sturdy place to live. They are not just easy on the eyes, but actually easy to make too!
Before starting the project, you likely have the thought of not only creating something just for the sake of doing so. You are arranging every wooden plank into place with the hopes of achieving an end result that will serve the needs of your flock.
The Ultimate Guide
Before actually getting to the plans, there are things that your project must be able to provide for your flocks. Here are some of them:
Ventilation
Ease of cleaning and sanitizing
Good drainage
Sufficient space for the flock
Predator-free space
Protection from the elements
Pheasant Coop Size
The first thing that you need to consider when it comes to deciding the size of your pheasant coop plan is what varieties are your getting. Are they big fowl, bantams, or other aviary species? Are they standard in size, or extra-large ones?
While there may be minimum requirements depending on the type of bird or fowl that you have if you can build a bigger one, do so. At some point, your flock may increase in number, and you surely would not want them to be cramped because of lacking space.
The coop should also be tall enough for you, yes you, to walk in. A walk-in coop is preferable so that you do not need to lean over to see what is going on inside. The requirements of the coop in terms of size are essential for the well-being of your birds, especially in the winter. If they do not have enough room, they may start plucking and picking at each other.
Access and Ventilation
Access should be through a standard sized door so that you will also be able to enter without worrying about hitting your head each time. Access of the birds, on the other hand, should be through a pop door. It is a hole that is cut into the cut with about 12 inches in height and 14 inches in width. This extra width will enable two birds to enter freely together. You might notice that one bird-loving to sit in the doorway, which is why the extra space will still allow others to enter without any problem.
Without any question, ventilation is very important inside the coop. During the warm summer months, the vents will enable the warmer air out, thus keeping the inside cooler. In wintertime, it will allow the moist and warm air out. Moist air during the winter will only result in frostbite of your birds. A well-ventilated coop will no doubt reduce problems. The vent should be attached near the ceiling, and well-above your birds' heads.
Aviary Enclosure Plans
And now, the plans. We have compiled a list of DIY Pheasant coop plans for you to make on your own. An advantage to having a plan is that you have different options to choose from. At the same time, you can even adjust the measurements according to the actual need of your flock.
·        All-Natural Coop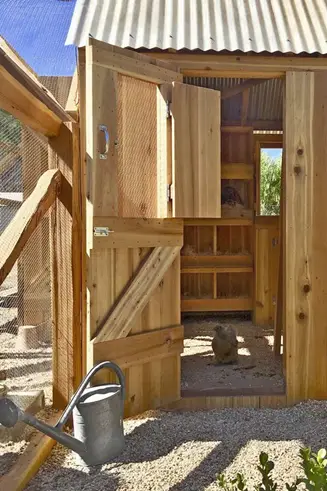 When selecting materials for your coop, one good option is cedarwood. This is because of its all-weather strength and durability. It is also naturally resistant to insect damage and rotting, and it will not warp even when exposed to elements and moisture.
The utility should be given priority. Rather than plastics, using natural materials is a good option. Hanley gold gravel can also be used to set up the warmer tones of the coop. The maker of this coop sprinkled the Hanley Gold gravel with natural powder, diatomaceous earth, keeping the coop pest-free and dry.
You can even make the entire package natural by planting the seeds. This may include those that are low-maintenance, such as sage and rosemary. It will also add a layer of landscaping to the area that surrounds your coop.
·        White Chicken Coop Plans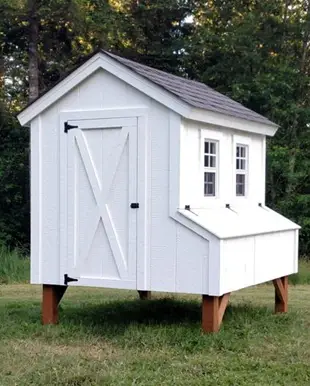 This white chicken coop plan is both functional and beautiful at the same time. It features a large access door that you can also enter freely, two windows for ventilation, roost trails, as well as a hinged lid, making this design a real winner.
·        Small Flock Chicken Coop Plans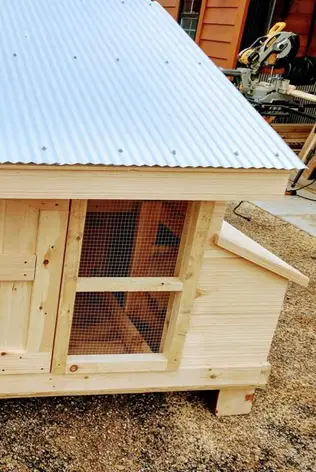 This coop plan is durable and elegant. It is a small flock chicken coop that is the best option if you are planning to raise chickens at home. One thing that makes this project interesting is that it is good for beginners, and at the same time, it is also easy to follow, even for beginners like you.
·        Homey and Colorful Coop
What makes this coop interesting is that it looks like even human beings can live in this abode. It has something to do with the overall design, being homey and all. On top of that, it is also brightly painted, adding further to the attractiveness of this coop. With a picket fence and colorful shutters, your avian friends will surely live in style.
·        Blue Shades Coop
Rather than spending tons of money buying a complete coop like this, creating your own is a much better option. By doing so, you can make your very own version, at relatively a fraction of the actual cost. It features a hinged door that folds outward, making it a lot easier to reach in and grab the eggs.
·        Happy Yellow Coop
This plan looks perfect with its bright yellow color paint. As a bonus, the addition of blossoming flowers makes this coop a cherry one. It even has its very own window boxes, making it look like a real, tiny house for humans. There is no doubt that your pets will love their new home.
·        Repurposed Crib Coop
If you have an old crib that your baby used before, do not throw it out! With a touch of creativity, turn that crib into a coop for your avian friends. This can be done by covering the crib with chicken wire. This is just the perfect size for free-range chickens to stay in and feed, sleep and lay eggs.
Conclusion
When it comes to aviary enclosures, there is a wide range of options that are available for you. While some of them can be purchased as a whole, creating them with your own hands makes it more interesting. All you need to do is to get access to the plan, and you can follow the instructions, including the measurements and other requirements. You can even alter some of the details and create one that will no doubt take your output a level up. Your avian friends will no doubt thank you for your generosity in creating a home that they can comfortably call their own. The additional touches, such as the design, style, and color, will also add to the aesthetics of your yard.