If you're a pet owner, then you know how important it is to name your pet. This is the very first thing that you usually think of right after you pick your pet from the store or shelter and even the first thing you have to think of when you register your pet. And whether you have a cat, dog, rabbit or parrot, a name will last forever.
So what's in a name when it comes to parrots? Naming a very showy and a very interactive pet like a parrot is something uncommon compared to naming a pet dog or cat. When you give a parrot a name, you don't just consider the first thing or name that comes to your mind. You need to think hard, especially because this pet knows how to mimic words!
Don't choose a name that's too long or too complicated. Names that sound like commands are a bad idea because your pet may get confused. And if you have other pet birds or pets at home, each one must have a unique name, with each one sounding unique
List of unique parrot names that you might find perfect for your new fine feathered friend
Popular male parrot names
So you have a male parrot, and you're looking for a good male parrot name. But are you sure that you have a male parrot and not a female? Usually, it's hard to tell if you have a male or a female parrot, which is why you need your vet for this.
In most parrot breeds, males look very similar to females, and only a vet can tell it apart. It is also impossible to tell the gender if your parrots are still very young. You may need to submit your young parrot to DNA testing to find out its gender if you want to know this early. However, if you're OK with waiting, you can wait till your parrot gets older. Usually, males have brighter plumage, while females have duller colors.
So what are the popular male names? Here are the most popular ones:
Alfie
Barney
Benny
Bentley
Billy
Bobby
Bongo
Buddy
Castor
Charlie
Chocolate
Christian
Coco
Cosmo
Dali
Dave
Echo
Elwood
Felix
Fernando
Flash
Frank
George
Gideon
Gilbert
Gizmo
Greyson
Harry
Homer
Jack
Jambo
Kirby
Lester
Max
Merlin
Monty
Moses
Newman
Nibbles
Oliver
Orville
Oscar
Pebbles
Quincy
Ragner
Red
Ringo
Rocco
Ross
Rubix
Rusty
Scooby
Scooter
Shadow
Sooty
Sperry
Sterling
Storm
Sweep
Taz
Toby
Tyson
Van Helsing
Vincent
Whiskey
Wilbur
Yoda
Zak
Zeus
Ziggy
Popular female parrot names
So you have a female pet, we have a few of the best female parrot name. Remember, if you're unsure if your pet is male or female, just name it a neutral name, or you can have your pet checked.
Abby
Allie
Amanda
Angel
Ash
Baby Doll
Bella
Belle
Betsy
Betty
Betty Grable
Bobbi
Boonie
Britney
Candice
Caramel
Cherry
Cherub
Chloe
Diana
Dolly
Dotty
Dusty
Emily
Gracey
Hanna
Henna
Honey
Kezzy
Kika
Kiki
Kylie
Lady
Linda
Lolita
Lucy
Lucky
Marley
May
Mindy
Molly
Nell
Peachy
Pearl
Pearly
Pepper
Pixie
Rani
Rebecca
Rin
Rosie
Sally
Sasha
Shadow
Shelly
Smokey
Star
Sunshine
Talulla
Tiara
Tiffany
Tilly
Trixie
Twinkle
Wanda
Whitney
Willow
Zazza
Zizzi
Zebs
Zola
Funny parrot names
Everybody loves a good laugh, and if your parrot is into doing tricks, performing weird and funny antics, then it deserves a funny name. Here are the most popular funny parrot names according to various online sources:
Alexa
Beaker
Big Bird
Bird Brain
Blabberbeak
Bradley Popper
Cha Cha
Chatterbox
Chicken Wing
Chiquita
Cocky
Copy Cat
Delta
Einstein
Elvis
Feather Fawcett
Flyza Minnelli
Free Bird
Gossiper
H. Ross Parrot
Iago
Jeeves
Loud Mouth
Macawly Culkin
Marty McFly
Mary Poopins
Nugget
Parrot
Parrot Hilton
Parrot Top
Pollywood
Pretty Girl
Professor X
Quakers
Roommate
Saltine
Satan
Sinatra
Siri
Squacky
Tattletale
Tim McCaw
Waddlesworth
Whistler
Windbag
Cute parrot names
There's no doubt about it; parrots are cute, especially when you have a young and active parrot. Give your parrot a name fitting for a cute animal.
Blankie
Brownie
Buttercup
Cookie
Crackers
Cuddles
Cupcake
Daisy
Fido
Fishy
Kitty
Peanut
Pillow
Radio
Ribbons
Rosie
Famous parrot names
Now some people amp up their parrot names and name them from popular people. A parrot may be named from a very popular politician, a well-known actress, a historical figure, or an inventor or scientist. You must have heard some pet owners use names like Einstein, Abe (for Abraham Lincoln, or Barrack from the name of the former US president. Here are some famous parrot names for you:
Madonna
Michael Jackson
Aladdin
Rio
Skully
Iago
Princess Winger
Abraham Lincoln
Alexander the Great
Green parrot names
Going green seems to be the in thing these days, and so are parrot names. Also, most parrots and birds have green plumage, and thus it would be a good thing to name your fine-feathered friend something green like the following names:
Aloe
Amazon
Basil
Brazil
Chive
Emerald
Envy
Evergreen
Fern
Forest
Green Bean
Green Tea
Grinch
Herbie
Honeydew
Hulk
Ivy
Jade
Jasper
Kale
Kermit
Key Lime
Kiwi
Leprechaun
Lucky
Meadow
Mike Wazowski
Oakley
Peridot
Pickles
Pistachio
Rosemary
Shamrock
Spearmint
Sprout
Sweet Pea
Tinkerbell
Yoda
Yoshi
Pirate parrot names
Most people associate parrots with pirates, and so they name their pets based on famous pirates or characters from the movie Pirates of the Caribbean. If you've forgotten the names of the characters in the movie, here is a list of the pirate-inspired names that will surely refresh your memory:
Ahoy
Barbosa
Bartholomew
Bilge Rate
Bones
Buccaneer
Bucko
Calico Jack
Captain Flint
Captain Morgan
Davy Jones
Doubloon
Hook
Jack Ketch
Jack Sparrow
Jolly Roger
Landlubber
Long John Silver
Matey
Mr. Smee
Mutiny
Parley
Paulie
Peter Pan
Rapscallion
Red Beard
Rum
Scallywag
Scuttle
Sharkbait
Sharky
Strumpet
Swashbuckler
Grey parrot names
One of the most common kinds of parrots is the African Grey parrot, and because of its lovely gray plumage, many pet owners name their parrots according to their colors. Here is some parrot names ideal for grey parrots when:
Admiral
Apollo
Ashby
Caesar
Chrome
Gramps
Graphite
Gunpowder
Heather
Lancelot
Lilac
Mercury
Nickel
Pepper
Pewter
Pixie
Rocky
Saturn
Shadow
Shimmer
 Silver
Slate
Sterling
Stormy
Thor
Thunder
Turtledove
Violet
Willow
Wilson
Winter
Parrot names after fruit
Fruits are healthy, colorful, and fun, and why not name your parrot after a fruit? Some pet owners also prefer fruits as names especially if their pet loves to eat the particular fruit. Here are the best fruity names for parrots:
Apple
Apricot
Avocado
Banana
Berry
Cherry
Clementine
Fig
Grape
Honeydew
Jackfruit
Kiwi
Lemon
Lime
Mango
Olive
Orange
Papaya
Pineapple
Plum
Raspberry
Parrot names after colors
Parrots are a burst of colors. Macaws most especially have striking colors and lovely plumage. If you have a macaw and you're looking for a good name then the following color-themed names are good candidates:
Red
Blue
Blu
Orange
Green
Violet
Brownie
Lemon
Yellow
Parrot names after actors
We all have our favorite actors and actresses, and some parrot owners prefer to call their pets their favorite actors' names. The following are popular choices:
Audrey Hepburn
Arnold Schwarzenegger
Marlon Brando
Olivia Newton-John
John Travolta
Robert Downey, Jr.
J Lo
Mr. Spock
Parrot names after other animals
Parrots can mimic the sounds of animals, which is why their owners may name them according to other animals as well. The following have been found:
Goose
Duck
Doggie
Kitty
Dolphin
Cow
Piglet
Piggy
Kanga
Roo
Chickie
Froggie
Ham
Parrot naming tips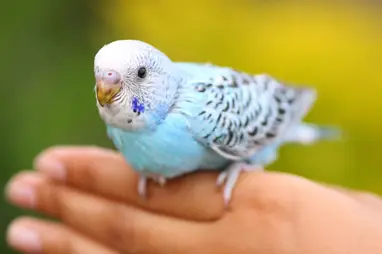 Remember the following when naming your parrot:
1.      When naming parrots after people
Don't name your pet from people who live with you. You'll be tempted to call your pet the name of your brother just to tease him, but even if this is a joke to you, your pet will become confused if you call your brother or your pet.
Also, names should be unique to give your pet identity. Even if you have two, three, or more parrots, it's a must to name each one differently.
And as much as possible, don't name your pet from an actual person like an ex-boyfriend or girlfriend. You'll never know when this person might show up at your home! What would he think if you named your pet after him or her? This will be a very embarrassing, awkward moment for you!
2.      Names are forever
Yes, names are indeed going to stick forever, and thus, your pet should have a name that will remain unique and fitting for him. So instead of calling your pet some funny name or a name from a movie or cartoon, give it a deserving name. Remember, your pet can live up to 10 or more years, so a name like Shrek, which you named your pet when it was still a wee bird, may not fit anymore when its already an adult bird! Choose meaningful names as much as possible.
Just a few examples are Alexander, who is the name of an Alexandrine parrot and Einstein which is a parrot that has become popular on YouTube after showing off its amazing intelligence. Einstein has a 200-word vocabulary and is capable of making hundreds of sounds.
3.      Choose an easy name
For your parrot to remember or understand its name, it's best to make it simple, easy to say. A macaw parrot was called Mac, and this intelligent bird lives in Australia and has helped its owner find treasure and has saved a senior in a nursing home. Mac is simple to say and remember also Mac is an endearing name and is indeed a good name for a parrot.
4.      Names should be registered
In some places, you need to register your pet. Usually, you will be asked to enter the name of the bird, its breed, the bird's age, birthday, and any kind of distinguishing marks. Also, in some countries, it is required that you register your pet before you take it anywhere. Traveling with your pet bird also requires a safe bird carrier, health shots, and vet clearance. Talk to your vet about the requirements on how to travel with your pet parrot.
5.      Teaching your pet his name
Now, pet parrots are not like pet dogs and not even like pet cats in such a way that they may or may not identify their names. Some parrots are more receptive than others that they are aware of their names and can be called or will respond to calls made by their owners. Some parrot species are not too receptive and may never learn their names.
Pet owners say that the species matter, the age of the parrot matters, and the amount of interaction pet owners give their pets. For instance, an intelligent macaw that was trained to recognize its name from a very early age and interacts with its owner daily can have a good chance to remember and respond to its name rather than a similar species of parrots that learned its name later in its life.
So how do you do it? Here is a way to help your pet remember its name:
Interact with your pet every day and gain its trust. Your pet won't be able to learn anything and may be wary of you if it does not trust you. Start withholding it, feeding on your hand, or just talking to it. After regular interaction, your pet will warm up to you and will be happy to learn anything, especially its name.
Talk to your pet constantly and always use its name. When you say its name, emphasize on the sound and increase the tone. Don't just say "Cookie" if this is your pet's name but say "Cooookieeee," emphasizing each letter and using your articulators to pronounce the word in exaggeration.
Any chance to say its name should be taken. Instead of just saying, "Good night," you must say, "Good night, Cooookieeee." It will soon understand that what you said meant something very important and will look forward to you saying this name/word over and over again.  
Right after your pet shows that he can respond when you call its name, give it a treat as a reward. You can also pet it, scratch its neck, or rub its back to appreciate its good behavior.
6.      Teaching your pet your name and other people's names
As much as teaching your pet parrot his name is challenging, it may take time for it to learn your name and other people's name. If your pet is unable to learn this trick, then don't force it. It will eventually learn your name when he sees people call you or when you call other people by their names as well. When naming more parrots, it's a challenge to find a suitable name for each one. Remember the guidelines? Use individual names and be sure that each bird knows its name.