Have you ever heard of the concept of feeding your pet bird with bread that you have made by yourself? After all, parrots do not feed on baked goods in their native habitat. But then, you may be sharing some other foods to your bird that a parrot in the wild will never encounter. As your parrot most likely has enjoyed its share of human foods, why not take it to an extra level and bake something that your pet can consume? In this article, you will know about bird bread recipes and other important things to know.
Bird Bread Recipe #1: Basic Birdie Bread
Ingredients:
1 cup of whole wheat flour
1 cup of yellow cornmeal
2 teaspoons of baking powder
¾ teaspoons of salt
½ teaspoons of baking soda
1 tablespoon of sugar
2 eggs with shells
3 tablespoons of tour preferred type of oil
1 cup of buttermilk
Instructions:
Grease an 8-inch baking pan.
Mix all the dry ingredients together.
Wash eggs then pulverize them using a blender.
Mix oil and buttermilk together.
Slowly mix in dry ingredients to the wet ingredients.
Bake for 30 minutes at 350 degrees Fahrenheit.
Leave to cool.
Cut into small squares and freeze.
Serve to your pet bird and allow it to enjoy.
Bird Bread Recipe #2 : Healthy Homemade Bird Bread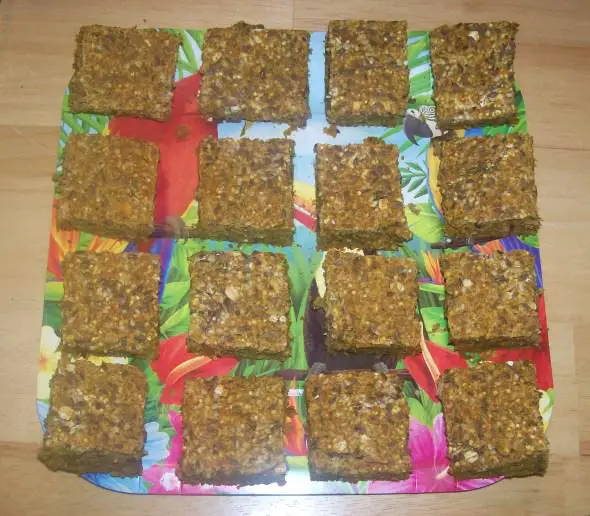 Ingredients:
1 cup of barley flour
1 cup of oat flour
1 cup of rice flour
1 cup of buckwheat flour
1 cup of superfine bird pellets
1 cup of pureed strawberries, blackberries, raspberries, or blueberries
3 overripe bananas
1 can or 32 oz. organic sweet potato or pumpkin, or 3 to 4 baked sweet potatoes with skins removed
2 tablespoons of almond butter
2 whole eggs, including shells
Note: You can substitute the fruits using some fresh vegetables that have also been pureed. You can also add unsalted almonds as an extra crunch.
Instructions:
Grease your bakeware by using coconut oil.
Mix all ingredients and pour the mixture into the greased baking pan.
Bake the goodies at 350 degrees Fahrenheit until they are thoroughly cooked.
Cooldown the cooked bread.
Cut the bread into individual portions depending on the size of your flock, and freeze the bread treats.
You can serve warm and cold, depending on your parrot's preferences.
Bird Bread Recipe #3: Eclectus Parrots Bird Bread
Ingredients:
2 cups of yellow cornmeal
1 cup of raisins or currants
1 cup of shelled sunflower seeds
1 cup of whole wheat flour
1 cup of nuts, can be almonds, pecans, pines, and walnuts
1 21 oz can of solid pack pumpkin
1 32 oz bottle of papaya nectar
½ cup of safflower or sunflower oil
1 teaspoon of cinnamon
1 tablespoon of baking powder
Instructions:
Combine all ingredients together, starting with wet only, dry only, then mix them all together.
Add enough water or juice to make the batter pourable.
Use two large well-greased baking pans.
Bake at 425 degrees of 30 minutes or until the feeling of being done.
Leave to cool.
Slice to the desired shape.
Serve warm or cold.
Bird Bread Recipe #4: Birdie Bread Muffins
Ingredients:
4 eggs
¼ cup of water
2 tablespoons of millet or birdseed
Fruit, as desired, can be bananas or strawberries
1 box of Jiffy corn muffin mix
2 cups of chopped vegetables: you can go for variants like carrots, broccoli, peas, peppers, cauliflowers, and other similar vegetables
Vegetable chopper or food processor
Muffin tin
Cupcake liners
Mixing bowl
Instructions:
Preheat the oven to 400 degrees Fahrenheit.
Put the vegetables in the food processor until they are all chopped finely.
Cracks the eggs into a mixing bowl.
Ground the shells of the eggs into a food processor.
Combine the corn muffin mix, water, eggshells, and eggs into the mixing bowl.
Add the vegetables into the mix while stirring well.
The mixture must appear thick and clumpy.
Line the muffin tin with cupcake liners and fill the muffin tin with the mixture.
Bake the muffin until golden, which will take about 10 to 15 minutes.
Allow the muffin to cool completely before letting your bird taste them.
You can crumble the muffin before providing them to your pet bird and serve it in its usual food dish.
You can freeze them and warm them each day before serving.
Bird Bread Recipe #5: Wholesome Birdie Bread
Ingredients:
2 boxes of 8 ½ oz Jiffy corn muffin mix
1 tablespoon of baking powder
1 ½ cups of oatmeal
4 eggs with shells
½ cup of applesauce
2 tablespoons of wheat germ
3 jars of baby food at 6 oz each – can be sweet potatoes, carrots, or potatoes
1 cup of birdseed or pellets
½ cup of finely chopped broccoli floret
3 grated carrots
½ cup of grated cheese
2/3 cup of peanut butter or tahini
Instructions:
Preheat the oven to 400 degrees Fahrenheit.
Place the muffin mix, baking powder, and oatmeal in a large bowl and set aside.
Wash the eggs thoroughly then place them in the blender, including the shells. Add the wheat germ, applesauce, and baby food.
Pour this puree into the dry ingredients bowl and mix together using a large spoon.
Stir in the cheese, tahini, broccoli, and grated carrots.
Spread the mixture into a greased baking pan-sized 9 x 13 inches.
Sprinkle the bird seeds or pellets at the top.
Bake for about 30 to 40 minutes.
Let it cool and cut into squares and freeze accordingly.
Serve warm and crumbled or whole, depending on the size and preference of your parrot.
Note: You can replace oatmeal with baby rice cereal, cooked brown rice, or wholegrain cereal.
Bird Bread Recipe #6: Sweet Potato Bird Balls
Ingredients:
1 large sweet potato
1 cup of frozen mixed vegetables
1 banana
½ cup of raisins
1 cup diced apples
1 ½ cup of oatmeal, corn flakes, or granola
Instructions:
Pierce the skin of the sweet potato several times through the use of a skewer or a paring knife. Place the sweet potato into the microwave and cook on high power for about 5 to 9 minutes, until the sweet potato becomes tender.
Turn the potato over about halfway, and allow it to cool when done.
Peel the sweet potato and place it into a large mixing bowl. Add all the vegetables, banana, apples, raisins, and oatmeal into the bowl.
Mix together using an electric mixer until the vegetables have been reduced to small pieces. Add a little water if the mixture is too dry.
Line a baking sheet with parchment paper. Get a portion of the mixture and form balls with the size of a marble. Arrange them on a baking pan and make sure to leave enough space.
Freeze the balls inside the fridge or serve to your parrot right away.
Final Thoughts
Baking your pet parrot some bread can help you get the chance to introduce some new foods and healthy supplements to your pet's diet. Birds can be picky eaters, and this customized bread will trick your bird into becoming healthier. Baking can also be seen as a good activity to utilize your free time, and you will be able to incorporate some much-needed nutrition, too.