Probably the very first thing that you have to consider when taking home a parrot as a pet is its enclosure or cage. You need a cage to house your pet safely and securely; otherwise, it can become stressed or sick.
The following sellers of large parrot cages will surely have a fitting enclosure for you: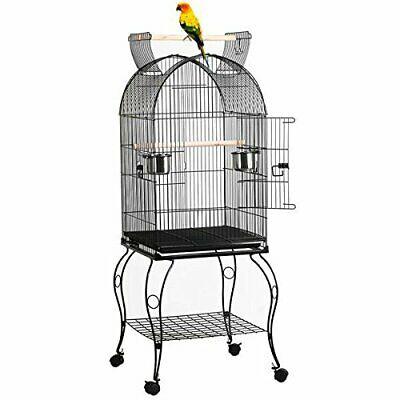 The Prevue Pet Products Bird Cage is made of wrought iron, so expect years of use. It will ensure the safety of your pet while inside the cage with durable lockable doors. When he's out of the cage, expect non-stop entertainments. It has a seed guard that can be used as a perch for traveling birds, and there is a play top on the roof, which also has a food and water dish on the outside.
You can clean this cage up with easy pull-out trays. It is made from powder-covered wrought iron; therefore, it's a heavy cage that your bird won't be able to knock over or move. The cage has a seamless design with a stand. It is set on wheels so you can move the cage easily.
This birdcage has received a high rating on Amazon and has been reviewed by more than 1000 customers. But make sure that this is the birdcage for you by checking it out at Amazon.com.
Key features you shouldn't miss
It comes in eight different colors
Push-button lock for added safety
It comes in four different sizes
With a step ladder and perch on top
Easy to clean with the pull-out tray
You can accommodate two or three birds
The Zeny Bird Cage is a huge cage with a 53-inch pet area to play, eat, and sleep in. It is made from wrought iron; you can expect that this will last for a long time. It is made for medium to large pet birds like cockatiel, cockatoos, and parakeets.
This birdcage may be used indoors or outdoors, and you can easily take it wherever you want to go. The large door is found at the front of the cage, and this opens easily so you can place your pet in or take it out with ease. The door has a secure lock with a barrel bolt type lock. Inside are two long perches situated on two different heights. It has a removable grate to easily clean the cage and for making your pet's cage more comfortable.
This cage has a flat top with a grill around the top so your pet can be safe and secure. You'll find four cups with an easy to pull out design, and this makes it easier to feed your pet or fill its water dish with fresh water. You'll also find the shelf under the cage a good thing because this can accommodate your pet birds' supplies like food, water, extra perches, toys, and many more. The feet have strong swivel caster wheels that are stable, easy to move, and transport. However, the wheels are non-lockable and will only work well on cemented or tiled floors. Rolling on turf, grass, or mud is impossible with these wheels.
Key features you shouldn't miss
Made of strong wrought iron
Very sturdy and durable that will last for many years
With two durable perches where your pet can sit down and play
Perches are made of wood so your pet can use this to sharpen its beak and claws
With a flat top and grills to enhance safety
With a removable pull-out tray
This cage is ideal for medium to large birds
With four, large swivel wheels
With large doors and secure locks
With large shelf at the bottom of the cage
With easy slide-out food bins and water dishes
The Yaheetech Rolling Standing medium-sized birdcage is a safe birdcage that fits one to two large birds and around four small birds. It is tall, so your birds can climb up the top of the cage or fly down if they want. This is made of wire, but the wires have small gaps to avoid escape and warping.
This comes with one wooden perch that is as long as the width of the cage where your pet bird or birds can sit together and play. Another perch is in the form of a swing, and this is positioned in the middle of the cage. All perches are made of wood, so these are safe to use by your pet.
This rolling standing birdcage also has four feeding dishes with a pull-out design. You can easily access to dishes for food and water refills without the need to open the large front door.
And the slide-out tray at the bottom of the cage allows you to clean the cage and remove poop and fallen food. It also comes with a detachable mesh panel. The cage itself is easy to clean as you only have to wipe the cage bars clean.
Under the cage is a handy shelf that may look small but can still hold stuff that your pet needs like food, water, medicines, first aid kits, and more. The cage can be carried with the use of a large handle at the top. You can also hang this cage using this handle. Just make sure that you hang it from a stable perch. And of course, you can rely on this cage's large 360 degrees, easy-swivel caster wheels.
Key features you shouldn't miss
Safe and secure birdcage for your pet
Comes with arc wires for enhanced locking
With painted cage bars for a smooth and clean surface
With polished wood perches
Eco-friendly bird feeders
Comes with 4 bird feeders/water dishes with easy pull-out design
With large doors for easy entry and exit
With extra shelf at the bottom of the cage
With easy to pull poop and food tray capture
With easy to roll swivel casters so you can easily transport this cage anywhere
You can carry it anywhere with the large handle
You can hang this cage using chains and a hook
Will come unassembled, but instructions make it easier to assemble
The Vision Bird Cage is a cage made of wire that's for canaries, finches, budgies, and lovebirds. The cage can be detached from its base so you can clean this easily. It is for two or more pet birds as it has double the height of a regular birdcage. Your pets can spread out its wings as this offers a wider as well as a taller cage area for your pet parrot.
For the accessories inside the cage, you'll surely love the three green perches where your pet can sit and relax. These perches are rough, so your pet can rest its claws and legs easily. There are water and food dishes on different levels, so even three or more birds won't have to fight for food.
All-in-all, this is a heavy-duty large parrot cage that your pet parrot or parrots will love to use. It looks clean, simple, and has ample accessories that your pets will surely love. And most of all, it is easy to clean; therefore, this might be the large parrot cage you've been looking for.
Key features you shouldn't miss
Ideal for medium to large pet birds
Cage may be detached from the base
Easy to clean and maintain
With removable food and water dishes
With three strong and durable perches
With easy to install perches
With two large doors for easy access to your pet
A large and tall cage
This is a large wrought-iron cage made for large birds. It is the largest in our list with a capacity of four or more birds. The cage is wrought iron painted with durable paint, so this won't rust or warp even when used indoors or outdoors. It makes a good home for your pets with its many accessories and features.
The top of the cage is flat and has no handles, so this is indeed meant for display on a wheeled cart. It has a very large door that lets you feed and spot clean the cage with ease. You can open the door to get your pet in and out of the cage with ease as well.
Inside are four perches that are found in four different areas of the tank. You can also hang other items like toys, pet treats, and many more from the side of the cage. Your pet will also get plastic feeder cups that are deep enough to hold a lot of seeds, nuts, fruits, and veggies. You can remove each of these plastic cups to wash when needed. The bottom is washable, easy to clean, and will never keep stains and smells even when you use this cage 24/7.
At the bottom of this cage is a large shelf that you can use to keep almost anything like your pet's food, toys, water bottles, and more. At the cage's feet are easy to swivel feet. With this movable feet, you can roll this to wherever you want to keep your pet.
Clean up is easy to do with this cage because of its smooth bars. You just need to wipe the bars clean. The removable tray at the bottom of the cage makes dirt cleanup easy. The only flaw of this cage is that it is too heavy to take anywhere.
Key features you shouldn't miss
With multiple perches all over the cage
Made for medium to large birds
Made from wrought iron, so it's guaranteed to last a long time
Comes unassembled but it's easy to assemble with good instructions
You can use toys and vines
It has a convenient pull-out tray for an easy cleanup
It has an extra shelf at the bottom to carry things your pet needs
It has a 64-inch with
Is easy to clean, easy to maintain
With two large doors
With food dishes and water dishes
With wooden perches to let your bird develop good beak and claws or feet.
Tips in Buying Large Parrot Cage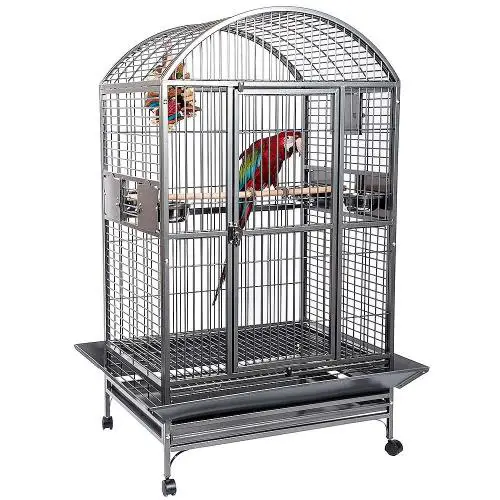 We recommend that before you even take a new parrot home, start ordering or buying a parrot cage, and take note of the following important things.
Consider the adult size of your pet parrot
A small baby bird today might grow up to be a 10-pounder adult parrot in a few months, so it's best to get a larger cage than to be sorry with a small one. You should always consider your pet's future needs; after all, you don't want to spend more money buying a larger cage in the future. Also, when considering the right size cage, just remember this important rule: your pet should be able to outstretch its wings without touching any side of the cage.
Consider the number of parrots you intend to keep
So how many parrots do you want to keep? Parrots are known to be communal, social animals that will benefit from a company. You may want to get two or three parrots of the same species or a cage with birds of different species instead.
And if you want to keep more birds and birds of the same species, are the males territorial? If so, then it would be best to get a very large cage or just house each bird in individual cages.
Do you want to keep your parrot indoors or outdoors
Take note that outdoor birds have different requirements than indoor birds. When birds are kept in indoor cages, these are more secure from direct sunlight, rain, and the cold. Indoor birds enjoy protection from natural predators, too, but their enclosure may have limited space compared to outdoor cages.
Meanwhile, outdoor bird cages are airy, spacious but are exposed to the elements. Also, outdoor bird cages attract birds' natural predators like domesticated cats and dogs as well as critters from nearby forests and fields.
Consider pet safety and security
Not that birds want to escape their cages, it's more of protection from natural predators like your pet cat or pet dog. Therefore, the cage you want to buy must have a durable door, a lockable top, or access points and should have some small boxes or birdhouses where your pet birds can hide and rest.
Take note that most parrot cages are bought bare with no perches, birdhouses, or anything. It's up to you to install these add ons inside the parrot cage to improve the safety, security, and comfort of your pet.
Consider accessories, bedding, and lighting for your pet
Parrot cages also don't come with the necessities like accessories, bedding/substrate, and lighting. When it comes to accessories, you may use real or artificial plants (if these can still fit!) and perching branches or rocks. Since most of these are too heavy, secure these with wire or hardware so these won't fall onto your pets.
For bedding or substrate, it's really up to you if you want to use these materials. You may otherwise just use paper towels, newspapers, or brown paper to line the floor of the cage. Or you can simply do away with any bedding if your cage has a tray to collect poop at the bottom. And when it comes to lighting, your pet birds don't need any type of lighting because birds will just take sunlight from a nearby light source. But if you wish to view your pets at night, you may use a gentle fluorescent light. Place the light outside the cage; otherwise, your pet may fly and land on the light, and this can greatly injure it.
So how much are you planning to spend buying a large parrot cage? Large cages are expensive, and usually, pet owners simply make their enclosures, especially when there are available hardware and materials. But if you don't want to bother with making an enclosure and you need a cage for your pet right away, you can use ready-made enclosures.