There are some things that you should do and shouldn't do when you have a parrot. For instance, keeping play sessions short is important. Parrots usually prefer the comfort and security provided by their cage. You may want to play with your pet for a long time, but you should also know when to let them rest.
A 20 to 30-minute play session is enough. Your pet will enjoy just the right amount of recreational time outside of the cage, but they won't become homesick. Parrots that have stayed inside their cage for a long period of time grow attached to it. That's why you should keep the play session fun and short because you will always have the time to teach them new tricks. You should also observe the following do's in order to get along with your first parrot:
Do's:
Feed them parrot-friendly food – Parrots should be fed with caution. Give them parrot-friendly friends such as almonds, pineapple, cranberries, cantaloupe, strawberries, green beans, and bananas. They will also eat watermelon and flax seeds. If you are not sure what to feed your pet, you should ask the vet what kind of meals or snacks your parrot can have.
Pick a location where the parrot can be next to family activities – Parrots feel comfortable when their cage is placed against a wall. This way, they can watch what is happening without worrying that someone might sneak up behind him. Place the cage where they will not be startled. Avoid large furniture because it might block their view of what's happening around them. Put some newspapers or other safety products at the bottom of the cage. You should also place the cage away from the window to prevent the sunlight from falling on your pet and overheating him.
Use parrot-friendly toys – Always use toys that don't have toxins or hazards that may cause illnesses or injuries to your parrot. For instance, treated wood often contains strong chemicals that can cause toxicosis in birds. Since play sessions should be interactive and fun, you should know what toys to use in order to avoid health problems. Playing with your parrot is one of the best ways to get to know them more and bond with them. If your pet is happy, he will scream less.
Get a cage that's right for his size – Larger parrots need a cage that will serve as their home inside your house and another for traveling. Birds will be more at ease in a small carrier or box. Drape a towel over the box when you're transporting your pet. This will darken the box and help him relax. Just leave several air holes to keep him comfortable. You can also place a towel in the base of the carrier or box to secure his footing and prevent him from slipping. Make sure to put the box in a secure place, so it wouldn't fall or move around. You can secure the box in the seat by putting the seat belt through its handle.
Allow your parrot to settle in – After putting your pet in the cage, leave him alone to give him time to get used to his new environment. Give your pet at least 3 days to adjust. In the meantime, you should talk to your bird gently and with respect to communicating with him. Just don't touch him for now. When you need to refill water and food receptacles, just do it slowly and calmly. 
Don'ts: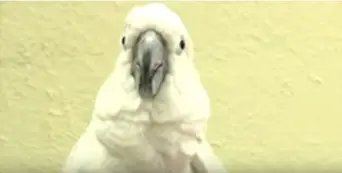 Expect a parrot to talk – Not allspecies of parrots can talk. Reconsider getting a parrot if hearing them talk is the only reason you have to get one. Moreover, you should not get a parrot if you are a neat freak. Parrots shed feather dander and feathers. If you don't like cleaning up such a mess, you should not get a parrot.
Force your pet to play – When your parrot retreats to the back of the cage, it's a sign that he doesn't want to play. If you force them to play, they might become aggressive. There are days when they just want to stay in their cage and watch what is happening around them. Check for signs of health problems as well. If he doesn't seem to be sick, you just need to leave your pet alone, and they will eventually be eager to leave the cage.  
Allow your parrot to bite or nip – Letting your parrot bite or nip you is never a good idea. It gives them the wrong idea that it's a good gesture. This behavior could result in a more aggressive nip or bite one day. Parrots only mean to bite or nip playfully, but you should not tolerate such behavior during playtime sessions. If he starts biting or nipping, say a firm "no" and pull away to let your pet know that such a gesture is unacceptable.
Allow them to play outside unrestrained – Your pet may fly off and never come back. If you want to take him outside, you should restrain him with a leash and harness that is comfortable and secure enough for him to play and move around with. A leash and harness will keep him near you and prevent him from flying off somewhere. 
React to bad behavior by paying attention to them – Mostbird owners yell at their pet when they're bad and ignore them when they're behaving well. When they do this, the bad behaviors of the parrot are rewarded with attention.
Use nonstick cookware – Overheated nonstick cookware releases fumes that can kill birds. Nonstick coating is also present in space heaters and hair driers. You have to be extremely careful about the cookware that you're using, especially when you have a pet bird.
Get a parrot just because of its beauty – You should not get a parrot or any species of the bird just because it's beautiful. What if you live in an apartment or housing that doesn't allow pets? Don't even think about smuggling a parrot into the housing and shutting them up each time someone visits you. Moreover, it's not advisable to take care of a parrot when someone in the family has respiratory problems.
Sleep with your pet – You don't want to suffocate your parrot, so don't even think about sleeping with them. Aside from this, it's not advisable to get a parrot if someone in the family values silences because birds make a lot of noise.
All-over petting – All-over petting provides sexual stimulation to adult parrots. This should be avoided because sexual stimulation can cause serious problems not only for you but for your parrot as well.
Cut corners when it comes to food, cages, and toys – Taking care of a parrot is expensive. You should give them high-quality toys, food, and cages. Aside from this, you need to consider the cost of avian medicine. If you're on a tight budget right now, it is best that you don't get a parrot or any pet at all.
You should not get a parrot if your space is limited. Large parrots and active smaller species need a large cage, so you shouldn't get one if you don't have enough space for them.