Just like pet dogs and cats, your pet macaw has to travel in a safe and comfortable cage. A bird carrier that has safety features will give you peace of mind that your pet is safe and secure by the time you've arrived at your destination. Also, a good macaw travel cage should keep the bird secure and stress-free.
If you frequently travel with your pet, then a good travel cage would be an investment. It is worth taking the time to select the right kind of carrier that will fit your pet nicely. Here are five of the best in the market today.
The Pawhut Stainless Steel Travel Cage is rock-solid. Upon first glance, it looks very durable, very well-made, and will surely last a lifetime. The shape is perfect for a large macaw, but it may only fit one bird. Although a bird can't fly or even open its wings completely inside, it is large enough to keep it safe on the road.
The door is large and is the entire side of the cage. It opens easily so you can easily take your pet out and in. The door is lockable so you can keep your pet safe and secure no matter where you're headed. It has a stainless steel perch where your bird can remain, but you can remove this if you want to use a natural perch. It comes with food bowls and water bowls that can be removed from the side and a tray at the bottom that you can remove easily for clean-up.
The stainless steel bars have smaller gaps to make this beak-proof. You can travel with it easily with a large handle on top. It may be quite heavy that all other pet bird carriers in our list, but it's a guarantee that your bird will be comfortable inside these travel cages for many trips to come.
Features that you and your pet will like
Easy to clean removable tray
Well-made, hardly any flaw construction
Made of durable materials
Food and water bowls ready
Large, lockable door
With a safe handle on top
With a removable perch
You can easily see and check on your pet
Aside from stainless steel pet bird carriers, there are backpack carriers for your pet bird as well. A backpack carrier lets you carry your pet on your back as you move about, and your hands are free to do other things as well. You won't have to hold a large and heavy birdcage anywhere you go. You can use a backpack carrier like the Celltei Pak-o-Bird to go hiking, biking, and camping.
The Celltei Pak-o-Bird looks like an oversized backpack with its large padded shoulder straps, but in front, you'll see that it's made for any kind of bird even for a long-tailed macaw. The sides of the portable travel cage are made of steel, so even a destroy-all bird can't penetrate. It has foldable flaps on each side to give your pet some privacy and also to protect it from the sun and rain. The door is large, which is very important with large birds. It will prevent stress when taking the bird in and taking it out safely and securely from the cage. It has an attachment for a water bottle on the side so your friend can have fresh drinking water all the time. Inside is a dragon wood perch that your pet will love to sit on. There are two 5-ounce stainless steel cups, one for food and the other one for water. And when it comes to cleanups, the bottom panel may be removed and washed. In fact, the entire bag may be washed clean because it is made of strong and safe nylon with a polyurethane coating to repel water. 
When carrying the Pak-o-Bird, you can do so on your back or your shoulders. The shoulder straps are completely adjustable, so it will fit anyone's shoulders and back. It also has a chest strap, which further helps you carry this backpack with ease. It can even be strapped to your car's seat in case you're driving to your destination.
Features that you and your pet will like
You can take your bird anywhere, hands-free
Good for long trips like backpacking, camping or biking
It can be strapped to a car seat
The entire backpack can be washed
With strong stainless steel screen
With adjustable and padded shoulder straps
It comes with a good wooden perch
Waterproof with additional foldable covers on each side
From stainless steel to backpack carriers to a soft-sided carrier, this could be the macaw travel cage for you if you need to take short trips. Short trips are trips to the park, to the playground, to the vet, or a restaurant or drive-through. This is a pet bird carrier with comfortable features but lacks the basic things that your pet needs to travel very long distances.
A good soft-sided bird traveling cage is the A&E Cage Company carrier. This is made from strong, durable material that you can spot clean. The front is a small mesh screen insert, which is also similar to the back, and this helps reduce stress as your pet travels. The carrier opens easily on all three sides so you can easily take your pet in and out. It has an adjustable wooden perch inside so your pet macaw can stay still and comfortable. There is no way to place a food dish or some toys inside because this is just a carrier for very short trips, nothing more. But the bottom section may be removed for cleanup and is attached using Velcro.
It may be shaped like a backpack, but it does not have shoulder straps, only a carrying handle on top. The handle may be adjusted according to your preference. This pet bird carrier is bare-bones simple but will work as a safe, short-term carrier for your pet.
Features that you and your pet will like
Very simple design for short trips
With easy access door that opens all three sides
Offers less stress and stimulation to pet birds as you travel
With removable bottom for easy cleanup
With an adjustable handle on top
Material is durable and may be spot-cleaned
A lot of pet carrier designs are available in the market, and usually, it's very confusing, especially for the first-time pet owner. But if you have had a pet bird, hamster, or rabbit before then, you've probably come across a bird carrier like the Kaytee Bird Carrier.
The Kaytee Bird Carrier has is made of wire coated with thin plastic. This makes it a durable pet carrier for the temporary use of short trips. This has a large carrying handle that you can easily hold, and your pet carrier won't move so much. The cage door is huge, basically one of the sides of the cage. This makes it easier for you to place the bird in and out of the cage. This large access door also helps you place food and water in carefully. Inside the cage, you only have a wooden perch with no food or water dishes. But this cage lets you improvise with generic water dishes, cups, and toys.
Another feature of this pet cage is its plastic, washable base. You may not be able to remove this from the cage, but you can easily wash this with soap and water. It's stain-resistant and smell-resistant too. You may line this base with newspaper, paper towels, or brown paper bags, so cleanup will be easier.
This travel cage may not be as big as you want it, but it is durable and affordable. But if you have a larger macaw or a larger pet bird, then you might need a larger traveling cage than this one.
Features that you and your pet will like
Available in three different sizes (small, medium and large)
With durable sides
Comes with a perch
Washable and stain-resistant plastic base
With a large door
With a large handle
Easy to take on a trip
Portable and easy to carry
Easy to clean interiors and exteriors
If you just need a temporary transport cage for your pet macaw, then you might be interested in the A&E Cage Co. Collapsible Steel Parrot Transport Cage. This is a collapsible cage that is easy to set up and easy to tear down when not in use.
This bird carrier is tall, so you can take a medium to large bird with you. The door is large, almost the size of one side of the cage. It is a secure door with a complicated lock that your pet will not be able to pick open. On one of the sides is an opening where you can reach for its food dish, and on the opposite side is another small opening where you can access its water dish.
Inside the cage is a wooden perch that's not too smooth, which your pet will surely find comfortable to sit on. The perch is suitable even for a large pet. When you're ready to take your pet traveling, the plastic on top is durable and is easy to hold. This allows you to hold the cage safely and securely no matter where you're headed.
At the bottom of this macaw travel cage is a sliding tray. This tray is where your pet's poop, extra food, and pee may collect. You can remove it and clean it with soap and water. And when you're done using it, you can easily collapse the cage after removing this large pan.
All-in-all, the A&E Cage Co. transport cage for a macaw is an average pet carrier that will help you take your pet for longer trips because it is durable, easy to carry, and easy to keep. It may be the right macaw travel cage for your pet.
Features that you and your pet will like
Collapsible walls, easy to set up when you need it
Has a large, durable handle so you can carry your pet easily
Has a removable tray to catch poop, leftover food, and pee
You can easily clean the removable tray
Comes with two openings to access the water and food dishes
With a long and durable wooden perch, will hold medium to large-sized pets
With a large door to help you take your pet in and out of the cage with care
Portable cage, you can easily take it anywhere
Conclusion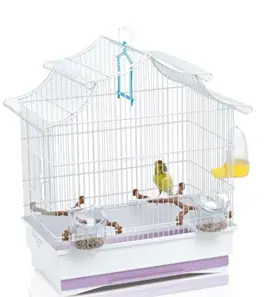 Most travel cages are available in pet shops. But if a local pet store or pet shop does not carry a bird travel cage, then you might be better off checking out products online. You'll surely find what you need at Amazon.com and from other pet-dedicated shopping sites. But don't just settle for one shopping site to buy this pet travel accessory, you should check out three or four products and compare the prices, features, and the material. Also, you'll find a lot of amazing travel cage designs to choose from online. And because you're ordering online, you will surely find a lot of cool birdcage accessories, including pet bird care supplies. Don't hesitate and find the right macaw travel cage for your pet now.